Tips on How to Keep a Lab Grown Diamond Clean
Lab-grown diamonds are becoming more popular because of are conflict-free. However, we know it very well, and regular wearing of any gemstone can harm its appearance. So, why not apply the formula of "Prevention is better than cure."
Prevention is one of the most effective ways to clean a lab diamond. When undertaking strenuous/dirty activities, such as exercising or gardening, it's ideal if you remove your diamond jewelry. It's also a good idea to remove it before swimming in chlorinated pools.
This article will cover how to clean lab diamonds and the most common causes of diamond damage. Knowing the potential for damage will enable you to take the required precautions to avoid it.
Will Your Diamond Lose Its Luster?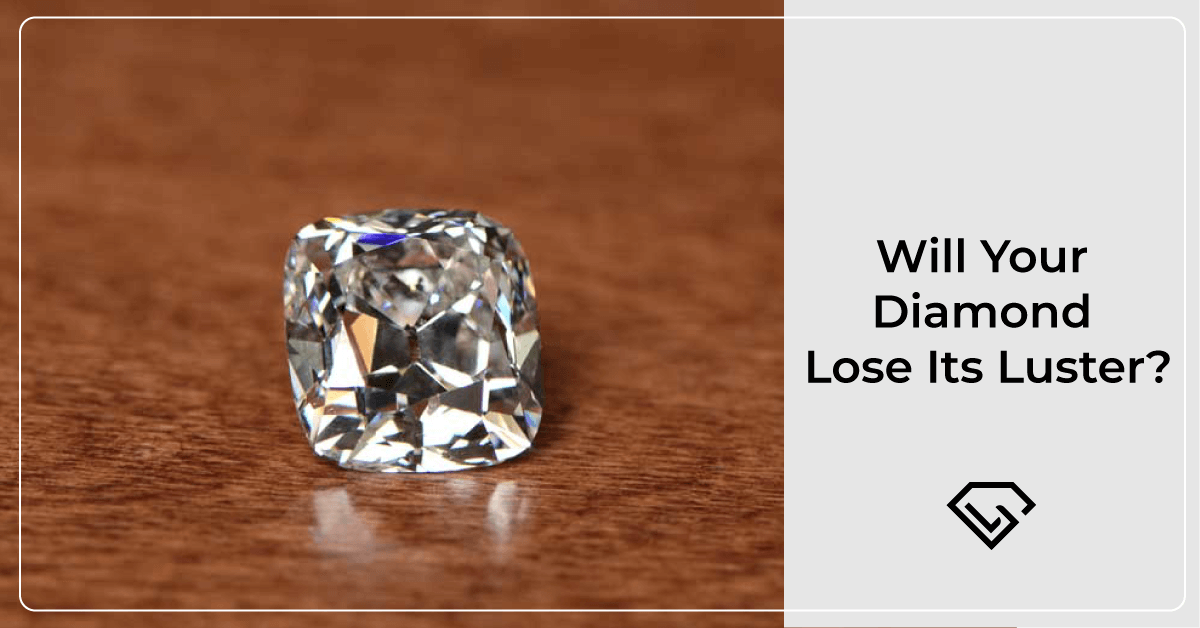 There are several reasons your diamond loses its luster. Fading up the brilliance of a diamond depends upon the wear and tear caused because of its exposure to various activities. It also depends on the type of jewelry that contains the diamonds and how often you wear them. Here are some factors that most commonly cause dull luster: 
Reasons your Diamond may lose its luster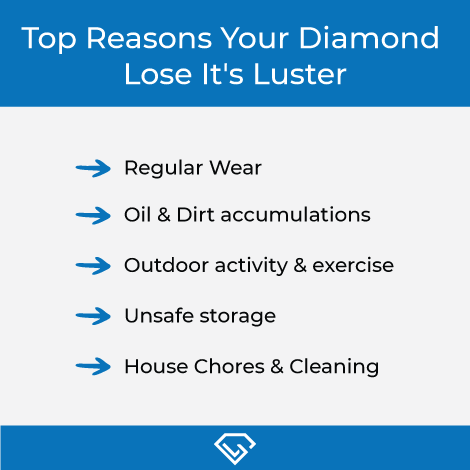 If you wear diamonds habitually or consistently, it is prudent to follow a daily practice for cleaning them and dealing with your diamonds. Here are a few cases where your diamond needs care and upkeep.
Regular Wear – When wearing lab-grown diamonds regularly, body items like lotion, sunscreen, fragrance, and body shower can spoil the shine of your diamonds. Make sure that these items don't get showered on your diamonds. 
Oil & Dirt accumulations – Oil and dirt get accumulated on diamonds easily because of regular contact with your sweat. Dirt and dust can spoil the brightness of your diamond and make it dull-looking.
Outdoor activity & exercise – Wearing diamonds during exercise or climbing, or any other physical activity can damage them. Practices like swimming in pools with chlorinated water or in hot tubs can also damage your diamond.
Unsafe storage – Keeping your diamonds along with different metals may cause scratches and spoil your diamonds. In addition, unsafe storage can make your diamond lose its luster and value. 
House Chores & Cleaning – Wearing diamonds and gems during active housekeeping or cleaning dishes can also damage your lab-created diamonds. And hence your diamonds will lose their value as well.
Why you Should take Care of a Lab Grown Diamond?
Like some other jewelry items such as gold, platinum, silver, and real diamonds, lab diamonds also need the right care. Here are a few reasons justifying the need to take care of your lab-created diamonds.
To Preserve its Shine & Brilliance – Diamonds are known for their shimmer and brilliance. So, diamond cleaning is important to keep the brilliant shine of the diamonds long-lasting. 
Maintain its value – Proper upkeep and regular cleaning of your diamonds will guarantee a life span and maintain the value of your expensive stone. 
Avoid repairing – If you know how to make diamonds look clean and brighter, you can avoid extra maintenance. Instead, it upgrades the look each time you wear them.
Keep it protected from getting lost, stolen, or damaged – Safety of your diamond from any loss or theft is also essential. Keep your lab-grown diamond jewelry in a separate box to avoid any damage to the diamond.
How to keep a Lab Grown Diamond clean?
Are you wondering how to clean a diamond? Here are cleaning tips that focus on the best way to deal with your lab-grown diamonds. These diamond cleaning tips will be helpful to you in the better upkeep of your precious lab-grown diamonds.
1. Clean diamond with soap & water
Cleaning jewelry with soap and warm water is an old method of keeping your gems spotless. As this mixture is used to eliminate soil from other items it works well with lab-grown diamonds too.
Blend around four cups of water and a spoonful of washing soap or dishwashing liquid in a large vessel. Dump the jewelry in this vessel for 20 to 40 minutes and delicately rub and clean with a delicate fabric. Of course, you could utilize your finger as well to clean the lab-grown diamond.
Clean it immediately. Whenever it has been cleaned, please remove it from the water and delicately dry it using a fabric. Then spread a delicate piece of fabric and spread the lab-grown diamonds/jewelry on it, and let it dry with the air and light. 
2. Non-Abrasive & Chemical-free Solutions / Jewelry Cleaner
There are various jewelry cleaning items accessible on the internet. Most diamond specialists furnish these cleaning materials with your purchase. Just use these non-abrasive chemical-free cleaning solutions to clean your lab-grown diamonds. 
Carefully read the instructions along with these cleaning solutions, and following the tips referenced there, you can make your diamond shine brighter. Don't use any hard cloth for cleaning. A chemical-free solution is best for diamond rings. 
3. Windex & Hydrogen Peroxide Solutions
Unique cleaning materials are used to clean diamonds. Cleaning through these products doesn't leave any scratches on the piece of jewelry. Instead, take a decent quality cleaning material and delicately rub and clean the lab-grown diamonds with it. 
Windex and Hydrogen Peroxide are two solutions that provide a fast and simple solution for routinely cleaning your diamonds. We can clean all the residue and soil with this technique. 
Also Read: How to Clean Diamond Earrings to Make Them Glossy and Attractive 2022
4. Vinegar & Baking soda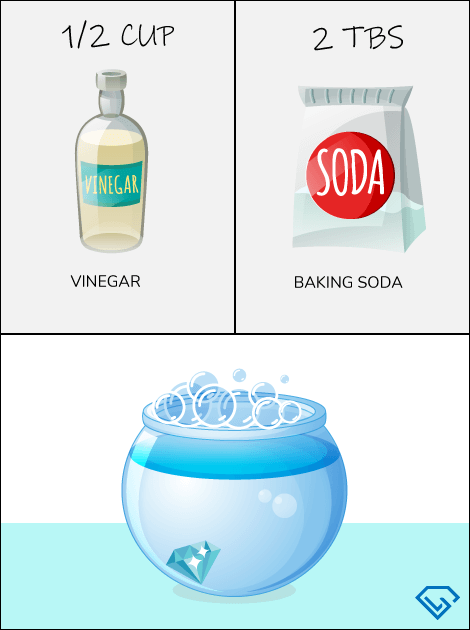 Another home tip for cleaning your lab-grown diamonds is white vinegar. Pour good white vinegar into a glass bowl so that you can submerge your diamonds in it. Keep your diamonds absorbed in the white vinegar for around 15 minutes. 
Take it out after 15 minutes and rub it using a delicate fiber brush. Then, wash your lab-grown diamonds with water and dry them totally with a clean, delicate fabric. Your diamond will look like the new one. 
Similarly, you can use baking soda for cleaning your diamonds. Using a cup of boiling water and 1-2 tablespoons of baking soda, make a paste. For a few minutes, immerse the jewelry in the mixture. Rinse well and dry with a clean cloth. 
Chemicals To Avoid while Cleaning Lab Diamonds:
Avoid the usage of any abrasive or corrosive liquid or chemical for cleaning the lab-grown diamonds. Chlorine bleach is one such harmful chemical that can damage your diamond. They can harm the diamonds' sparkling features. Also, avoid acetone or other harsh chemicals.
Ammonia

Chlorine

Bleach

Acetone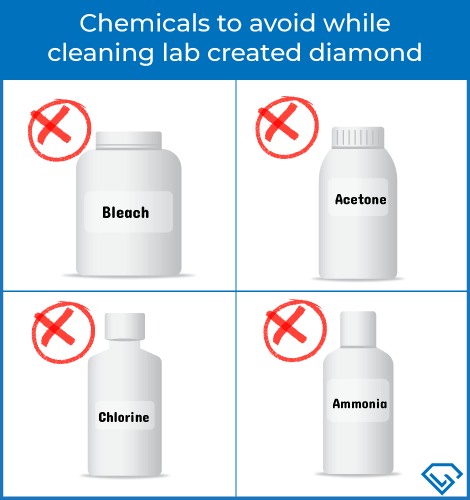 How to take Care of Lab-Grown Diamonds?
Taking care of your lab-grown diamonds is not an uphill task. On the contrary, it's easier and doesn't require much time. But, of course, it would help if you were careful while using any cleaning liquid. And you can follow these tips that will help you look after your precious gems.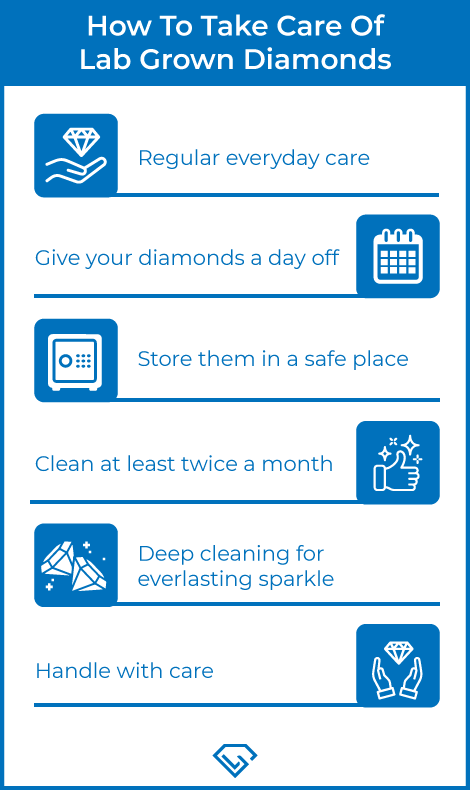 Regular everyday care – Inspect your diamond daily. Avoid wearing it while working or doing any stressful physical work.
Give your diamonds a day off – Even your diamonds need a break. So please give them a day off and let them relax in your cupboard.
Store them in a safe place – Ensure that you don't blend your lab diamonds with jewelry made of other materials. 
Clean at least twice a month – Clean your diamond or piece of jewelry twice a month using any of the methods mentioned above.
Deep cleaning for everlasting sparkle – If you feel your diamonds need a thorough check and cleaning, look for an expert diamond cleaner and perform a deep cleaning for lifelong sparkle.
Handle with care – Diamonds are the hardest substance but are delicate as well. Therefore, handle them with utmost care. Avoid rough & tough usage.

Wrapping Up
The proper use of lab-created diamonds and regular cleaning will improve the vibe of your diamonds and guarantee that they remain so for quite a long time. The previously mentioned tips will help you keep your valuable stones new and shimmering.
One of the renowned manufacturers of lab diamonds, Loose Grown Diamond, will always guide you regarding care tips related to your lab-created diamonds. You can also buy the best quality loose diamonds from here.